Products by
The Hemplady
are proudly
handmade
in the
U.S.A!

Earn Extra Money with Hemplady Products!

Tell a Friend!

Customer
Comments
Artists' and Crafters'
Reference
Library Builder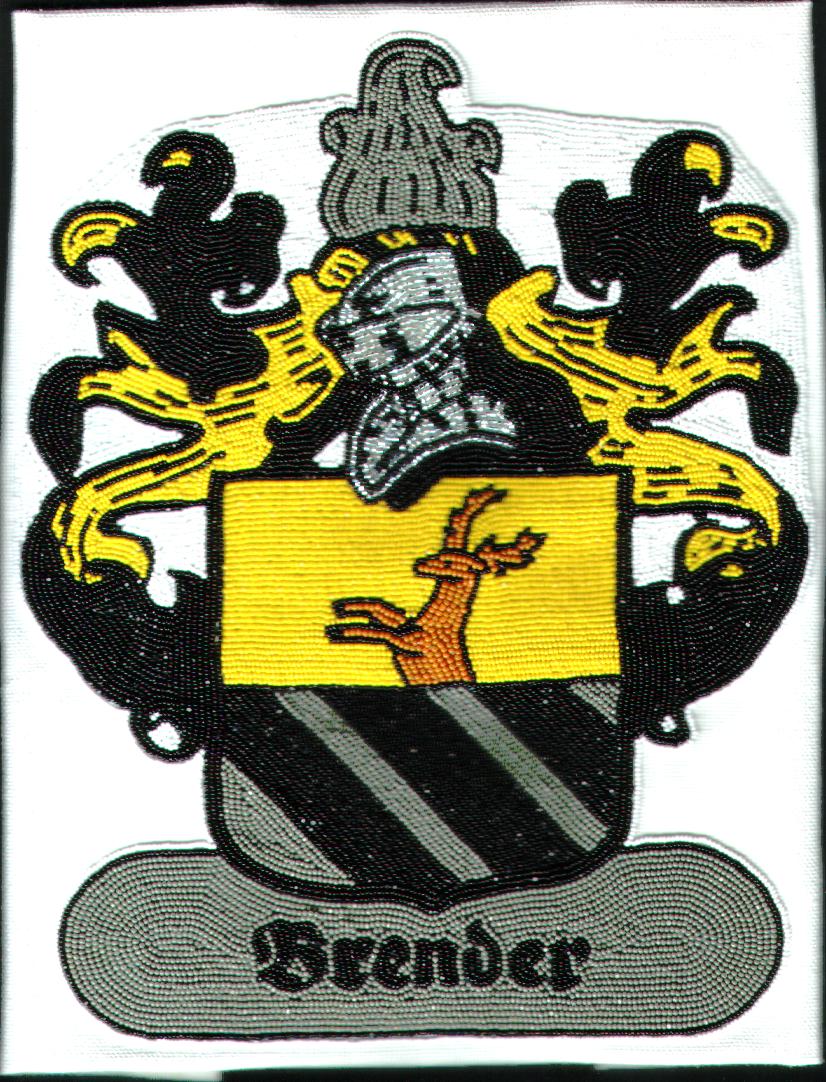 The Brender Family Crest: Beaded by Maya Lesovsky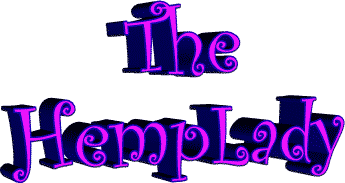 SORRY, NO CUSTOM ORDERS
UNTIL FURTHER NOTICE

This site offers unique custom hemp jewelry and beaded jewelry featuring individually hand crafted polymer clay beads, your name on rice, art and craft supplies, arts and crafts supply links, arts and crafts show listings in the USA, art and craft links, information for the artist and crafter, books, and more! There are over 36 pages loaded with necklaces, bracelets, anklets, gifts, and information...And we are still growing! Please be sure to bookmark this site and check up on our new additions for 2002.
Thank you!

Polymer beaded necklaces and pins.
I live in Michigan and have enjoyed tying knots for a number of years. Recently, I discovered polymer clay and began utilizing it in my hemp jewelry. Each polymer clay picture bead is individually hand crafted, making it unique. These beads are used in macrame' hemp necklaces, or strung on leather cord, according to your preferences. Some of the more detailed designs may look painted on in the photographs. Please know these designs are not painted, but crafted of polymer as well.
I have added many new styles of beaded necklaces this year. They have been added to various new pages in my examples section.
Necklaces may also be personalized by including a vial containing a grain of rice with your name on it. Any name or word may be written up to 9 letters on each side. The vial contains an oil, magnifying the tiny letters so they can be seen. The top has a rubber stopper and is permanently attached to prevent fluid from leaking. Hand-blown glass vial shapes available are: test-tube, mushroom, dolphin, heart, cross, tusk, and anchor.
Hemp name bracelets are very popular and come in a wide variety of colors. I have also seen them used as keychains and nametags for book bags. These hemp bracelets may also be presented as a gift tag on that special present!
Patriotic USA bracelets and cause ribbons have recently been added to our pages. These are very popular and readily available in many sizes. Show your support of our beautiful country!
Hemp keychains are available in the same styles as the hemp name bracelets. You may have any name, pet, car, hobby, sport, etc. spelled out on them. These are popular in favorite team or school colors. Metal pewter finish number beads are used for graduation years.

There are currently 15 examples pages of my hemp and leather necklaces and bracelets on this site. Additional photos may be seen on the new items page. I have added an additional page where you may view some of my original fine artworks.
Be sure to check out my craft show schedule. I travel the craft shows in Michigan and have many more jewelry products not pictured on this site. I would love to meet you at one of these craft shows if you are in the area. There are also other places where my work can be seen listed on the awards and honors page.

I am working on a number of new pages full of information for fellow craft lovers. These pages may not be completed for some time, though I beleive they are beginning to take shape. They will include features such as tips on getting started in the arts and crafts business, a free arts and crafts show directory, arts and crafts books, and more. I hope you will check them out and let me know what you think (constructive critisism is welcome).

Thank you,
Marianne
YOUR NAME ON RICE-These make unique personalized gifts!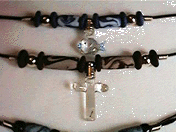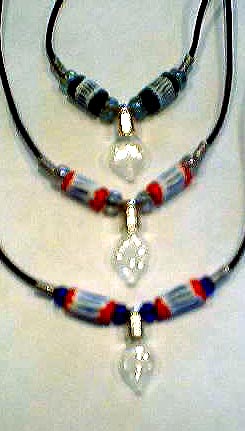 Above Left: Fish and Cross vials with polymer swirl tube
and silver plate accents.
Above Right: Heart vials with African influenced polymer tube beads
and glass accents. These necklaces are all strung on leather.

Inside the vial pendant is a tiny grain of rice with your name on it!
Please request a shorter nickname if over 9 letters.
You choose the vial shape:
Test-tube, fish, heart, dolphin, cross, turtle, elephant,
teapot, amphora, lightbulb,
or evil-eye (test-tube with blue evil-eye bottom).
The color of ink used will match the bead colors you choose as closely
as possible, or black will be used.

Please see the many examples of my work
by cruising the EXAMPLES pages and sign my guestbook.
I am anxious to hear your opinions!
View My Guestbook
Sign My Guestbook
This site and jewelry designs contained herein
© 2000-2002, Marianne E Brender. All rights reserved.
The HempLady
Marianne Brender
4101 Sheridan Rd. #528
Lennon, Mi. 48449


*You may also contact me via the following IM services:






| | | |
| --- | --- | --- |
| AOL | MSN | ICQ |
| hempshop1 | hemplady | 156785894 |


*Do NOT use this info for spam- you will be blocked and reported if you do!






As of August 5, 2002,
there have been 6,692 unique visitors to this site.